Homegrown: Capitol Hill
Editor's Pick
• $ • Sandwiches/Deli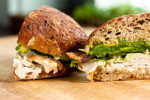 The second branch for this sustainable sandwich stop on Capitol Hill. Homegrown is the project of a couple of twentysomething childhood buddies with repurposed tables, an open kitchen, and a big chalkboard menu. Best, the sandwiches, soups, salads, and sides listed on that menu burst with more than quality and freshness. They are exuberant assemblages of foods that simply taste perfect together—like a slab of blackened cod with sweet slaw on a panino roll, or a perfect toss of arugula with flank steak, blue cheese, red onion, and honey mustard. Homemade potato chips come with a salt of the day; homemade fries might be parsnip, turnip, and yam. And all the pristine sourcing and blazing creativity come with a heaping side order of what may be this year's most important ingredient: value. It's tough to pay over $12 in here. There's sidewalk seating and a late-night menu for Hill-going revelers.
Last updated: 10/21/2013
Address

1531 Melrose Ave E
Seattle, WA 98122

Phone

206-682-0935

Hours

Daily 8am–8pm

Website
Please Note: Before making plans, please call ahead with the establishment to verify that this information is still accurate.