Green Leaf: International District
Editor's Pick
• $ • Vietnamese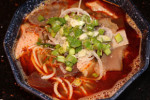 In two urban locations, Green Leaf gives you everything you want in a hole-in-the-wall and nothing you don't: plentiful plates of fresh and wholesome Vietnamese food delivered on handsome ceramic plates by extremely friendly folks at giveaway prices (not much over $10). The pretty, two-level International District original has lunchtime lines, but it's the better looking of the two; the newbie is the dark and sprawling basement of the Labor Temple in Belltown. Whichever you choose, order the Vietnamese pancakes: thickly embedded with shrimp, nearly cream--textured, brimming with bean sprouts, swaddled in fresh basil, mint, and lettuce greens, and anointed with drips of briny fish sauce. The menu offers many other appetizers in addition to salads, phos, and other soups, rice-based entrees (of which the spicy lemongrass chicken is commendable), and vermicelli bowls.
Last updated: 03/04/2014
Address

418 Eighth Ave S
Seattle, WA 98104

Phone

206-340-1388

Hours

11–10 daily

Website
Please Note: Before making plans, please call ahead with the establishment to verify that this information is still accurate.