Fresh Bistro
Editor's Pick
• $$ • Global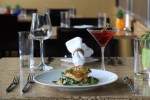 As if biscuits and gravy weren't already going to be the giddiest part of your day—how about biscuits fashioned into a cheese-enriched bowl brimming with sausage? This windowy West Seattle bistro is calming as a bath-and-body shop, with food that's considerably more entertaining. Menus (brunch, lunch, and dinner) traffic in crowd-pleasers—crab cakes, kalbi-marinated flank steak—but gussied up in creative global guises. So pork belly is served as a banh mi sandwich; honey prawns come (delectably) sheathed in a shiso crust with a green mango salad. Desserts, like s'mores that arrived with a flame-shaped graham cracker, are tons o' fun. Surprise surprise.
Last updated: 10/18/2013
Address

4725 42nd Ave SW
Seattle, WA 98116

Phone

206-935-3733

Hours

Mon–Thu 5–10
Fri 5pm–midnight
Sat 10am-3pm, 5-midnight
Sun 10am-3pm

Website
Please Note: Before making plans, please call ahead with the establishment to verify that this information is still accurate.