Emmer and Rye
Editor's Pick
• $$ • Continental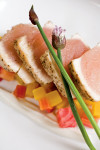 Out of a throwback setting—an oaky Victorian decorated with mason jars of grain—comes food so throwback it's stylish again. Local, seasonal, sustainable guru Seth Caswell extemporizes gloriously on the fresh bounty of boutique farmers—barely seared tuna with colorful, candy-sweet diced beets and swirls of sunchoke puree, wild nettle pappardelle pasta with braised rabbit and spring vegetables, whatever else is in season that nanosecond—and if all is not consistently executed to perfection, such is the price of soaring creativity. Servers are well-informed; desserts, particularly the fruity ones, can be stunning.
Last updated: 06/13/2012
Address

1825 Queen Anne Ave N
Seattle, WA 98109

Phone

206-282-0680

Hours

Mon–Thu 11:30–3, 5–10
Fri 11:30–3, 5–11
Sat 9–2, 5–11
Sun 9–2, 5–10

Website
Please Note: Before making plans, please call ahead with the establishment to verify that this information is still accurate.