El Gaucho: Bellevue
Editor's Pick
• $$$$ • Steakhouse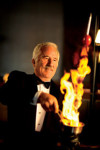 Waiters in tuxedos, diners in sequins, a surf 'n' turf plate for $125—this is Seattle? Yeah, dollface, and brought to you by a restaurateur who prizes the sheer theater of the dining experience. Truth be told, we still miss the original El Gaucho, the real-deal '50s supper club that held down Seventh and Olive by the sheer weight of its patrons' pinkie rings, but a straight shot of retro has been injected into this sprawling Belltown homage—from the banquettes to the pianist, from the showy tableside preparations (including a flaming bananas Foster) to the candlelight-only shimmer of what has to be the darkest dinner house in town. The result is a showstopper if you want to impress a date, a variable performer foodwise (stick with the beef), a sensational place to tipple (there's even an inn upstairs in Belltown)—in short, an unabashed celebration of all legal forms of adult indulgence. A newer location lights up downtown Bellevue.
Last updated: 06/13/2012
Address

450 108th Ave NE
Bellevue, WA 98004

Phone

425-455-2715

Hours

Mon–Fri 11:30–3, 5–close
Sat & Sun 5–close

Website
Please Note: Before making plans, please call ahead with the establishment to verify that this information is still accurate.