Dot's Delicatessen: CLOSED
Editor's Pick
• $ • Sandwiches/Deli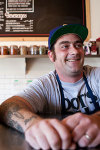 Miles James's friendly Fremont butcher shop is actually a charcuterie—but don't go telling the customers who relish its down-to-earth echoes of 1940s Brooklyn. "You want those chickens whole or you want me to break 'em down?" the affable butcher asks one buyer, who decides he'd rather have them in the form of takeout chicken potpies. Takeout is indeed a fine way to enjoy the Old World delights of Dot's (and whatever you do, don't miss the pate), but eating in may be the finest of all. Snag one of the 18 seats and confidently order whatever James is cooking out of the case that evening—lucky you if it's a crisp-crusted hunk of steak with terrific crispy frites. The real meat of the matter here is sausages, franks and brats and Polishes in all their hand-spiced glory, served with sauerkraut and mustard inside flaky buns. You'll never look at a meat grinder the same way again.
Last updated: 09/07/2012
Address

4262 Fremont Avenue N
Seattle, WA 98103

Phone

206-687-7446

Hours

Mon–Sat 11–9
Sun 11-3

Website
Please Note: Before making plans, please call ahead with the establishment to verify that this information is still accurate.