Delicatus
Editor's Pick
• $ • Sandwiches/Deli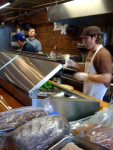 The new Pioneer Square sandwichery on 1st Ave S is located in in the storefront where Longhorn BBQ used to serve up its salted meaty wares. As soon as you enter Delicatus, you are confronted with two long chalkboards, each has a list of sandwiches whose names reference bits of Seattle history and lore.
Last updated: 06/13/2012
Address

103 1st Ave S
Seattlew, WA 98104

Phone

206-623-3780

Hours

Mon–Thu11:30am–9pm; Fri & Sat 11:30am–10pm

Website
Please Note: Before making plans, please call ahead with the establishment to verify that this information is still accurate.