D'Ambrosio Gelato
• $ • Dessert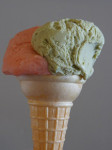 Flavors made from scratch every morning. Natural, organic ingredients, some sourced from Italy. A dude with a wicked knack for the delicious. That's the newly opened D'Ambrosio Gelato. At the helm is master gelataio Enzo D'Ambrosio, who trained at a gelateria in central Italy and arrived here November 8 bent on bringing Seattleites the type of stuff you'd only find touring the Boot. Meaning there's none of that runny ice cream sludge here—D'Ambrosio avoids the pitfalls of americanized gelato by sticking to old-school recipes. His varieties are additive-free and produced via slow churning, which results in optimal airiness and just the right density.
Last updated: 06/13/2012
Address

5339 Ballard Ave NW
Seattle, WA 98107

Phone

206-327-9175

Hours

Mon–Thu noon–10pm; Fri & Sat noon–midnight; Sun 10am–10pm

Website
Please Note: Before making plans, please call ahead with the establishment to verify that this information is still accurate.