Canlis
Editor's Pick
• $$$$ • Continental, American/New American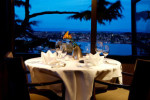 Canlis has been perched out over the vertiginous eastern edge of Queen Anne Hill for over 50 years. That makes it about as classic as it gets in this town—right down to the reconstructed surf and turf menu, the midcentury split-level architecture (a marvel of luxurious restraint), the dinner-jacketed clientele, the noblest mixed drinks in town, the fathoms-deep wine list, the perfectionist standard of service (where the valets remember your car without aid of a claim ticket), and the whole breathtaking sweep of Lake Union twinkling just beyond the windows. Now in its third generation of Canlis family operators, what was once the most intimidating dining room in Seattle has a friendlier, almost folksy air—but the food remains, as ever, impeccable.
Last updated: 10/24/2013
Address

2576 Aurora Ave N
Seattle, WA 98109

Phone

206-283-3313

Hours

Mon–Fri 5:30–close
Sat 5–close

Website
Please Note: Before making plans, please call ahead with the establishment to verify that this information is still accurate.