Cafe Presse
Editor's Pick
• $$ • French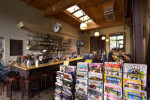 It's the most come-as-you-are French cafe in town, suffused with a casual dailiness that makes it dangerously easy to become a regular. And by the looks of it, half the students at the neighboring Seattle U are—popping in to the front room for a quick croque monsieur and some televised European football, a linger in the hidden back room over dazzling roast chicken, or a glass of Ricard at the busy bar, perhaps with a little something off the charcuterie list. That deja vu you're having right now is courtesy Le Pichet, Presse's downtown cousin, which has been stylishly mining similar territoire for years. Think of Presse as the more quotidian of the two, with its international newspapers and magazines for patrons' perusal, its all-day casse croûte menu, its way-low prices, and its informal joie de vivre. But don't let the informality fool you: This food defines unfussy elegance, from the classy bibb lettuce and hazelnut salad to steak frites in a Madeira sauce so exquisite you'll want to slurp it through a straw.
Last updated: 10/24/2013
Address

1117 12th Ave
Seattle, WA 98122

Phone

206-709-7674

Hours

7am–2am daily

Website
Please Note: Before making plans, please call ahead with the establishment to verify that this information is still accurate.