Cafe Juanita
Editor's Pick
• $$$$ • Italian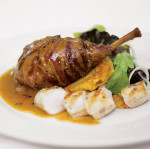 It's the classiest standby on the Eastside, where Holly Smith dances in the footsteps of the venerable Peter Dow. What he began in 1977 she refines and perfects, with high-end Northern Italian food rendered consistently and innovatively. Vivid dishes—like grilled squab with seared foie gras or mushroom-stuffed rabbit leg wrapped in pancetta and served with a chickpea crepe and fennel and green salad—showcase fastidious attention to perfect ingredients and dazzling creative verve in the kitchen, a verve that stands in appealing contrast to the slightly time-worn room. Warning: Unless you're familiar with Kirkland's lakeside community of Juanita, you will not find this hidden spot without help.
Last updated: 09/21/2012
Address

9702 NE 120th Pl
Kirkland, WA 98034

Phone

425-823-1505

Hours

Tue–Thu 5–9
Fri–Sat 5–10

Website
Please Note: Before making plans, please call ahead with the establishment to verify that this information is still accurate.