Boat Street Cafe: Closed
Editor's Pick
• $$ • French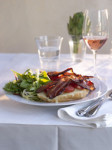 No place in town better captures the winsome charms of Provence than this unpretentious gem in the awkward nonneighborhood (read: lousy parking) where Western converges with Denny. Who cares where it is—it's not on Boat Street anymore, either—because the space is utterly transporting, from the whitewashed rafters to the wood floors, and from the fresh wildflowers gushing out of watering cans to candles flickering in mismatched wine bottles. The food, presented with clockwork consistency and unbelievable value, is simplicity itself: vivid carrot soup spiked with star anise, foamy as mousse; lightly steamed salmon dressed in Meyer lemon tarragon cream and served with caramelized Brussels sprouts. Desserts—including the original Boat Street's toe-curling amaretto bread pudding—continue the creamy aesthetic. Lunch happens in the adjoining Boat Street Kitchen.
Last updated: 10/24/2013
Address

3131 Western Ave, Ste 301
Seattle, WA 98121

Phone

206-632-4602

Hours

Mon–Sun 10:30–2:30
Tue–Sat 5–10

Website
Please Note: Before making plans, please call ahead with the establishment to verify that this information is still accurate.