Bisato: Closed
Editor's Pick
• $$$ • Wine Bars/Small Plates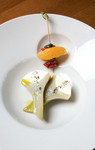 Scott Carsberg, the most exacting culinary artiste in town, has taken this simple Belltown space a few notches down-market from its last incarnation as his hushed temple of haute cuisine, Lampreia, but not at the expense of an ounce of his skill. Bisato is more attuned to the times: a U-shaped bar, fancy cocktails, and a small-plate menu where nothing (miraculously) tops $12—which brings his Northern Italian flavored minimalism and devotion to purity within the reach of the rest of us. He'll drape housemade veal and pork sausages in porcini sauce, then speckle them with pistachio oil; stuff briny halibut rillettes into a skinned tomato over brioche, draping the whole in a panzanella sauce that redefines intensity. Soups are a particularly creative playground, poured at-table over a variety of concentrated condiments. As for dessert, Carsberg's orange confit with chocolate-caramel mousse is quite simply the best finisher in town.
Last updated: 07/12/2012
Address

2400 First Ave
Seattle, WA 98121

Phone

206-443-3301

Hours

Tue–Sat 5–midnight
Sun 5–10

Website
Please Note: Before making plans, please call ahead with the establishment to verify that this information is still accurate.