Ba Bar
Editor's Pick
• $$ • Vietnamese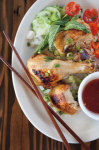 This open-all-day-and-half-the-night nosh bar is Eric and Sophie Banh's love song to the street food they ate as children in Saigon—and therefore hews to a more traditionalist standard than we've seen in their Monsoon restaurants. Where those represent bright fusion, Ba Bar serves up street-style classics: like noodle bowls topped with grilled chicken or charry prawns or Peking duck, with peanuts and caramelized shallots and greens and nuoc cham; seared catfish wraps fragrant with turmeric and dill, full of frisky greenery; or big, loaded bowls of pho, heady with basil and onions and mint and sprouts and fork-tender sheets of flank steak. Ingredients are scrupulously sourced and lovingly handled; beverages, coffee to cocktails, are bright and free flowing. The only flaw in this engaging model is service that's well meaning but diffident. Open till 4am weekends.
Last updated: 07/12/2012
Address

550 12th Ave
Seattle, WA 98122

Phone

206-328-2030

Hours

Sun-Thurs 7am-2pm
Fri & Sat 7am–4am

Website
Please Note: Before making plans, please call ahead with the establishment to verify that this information is still accurate.