Assaggio
Editor's Pick
• $$$ • Italian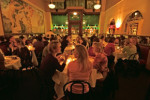 Boldly overseen by larger-than-life proprietor Mauro Golmarvi—benevolently regarded by the cherubim and seraphim painted all over the wall and ceiling murals—Assaggio may at first seem a throwback to the more clichéd conventions of Italian restaurant dining. Not so fast. There's a reason this room, graciously highceilinged and partitioned to resemble a European streetscape, sustains the devotion of midtown business-lunchers and evening pasta-twirlers alike. (Hint: It comes out of the kitchen.) Execution is steady and impressive on classic pastas—linguine vongole, a beautifully briny capellini donato, fettucine swathed in a meaty Bolognese—and wickedly rich specials, like one astonishing risotto lavished to a turn with pork loin and portobellos. But the Northern Italian place is quite capable of a lighter touch, as in a crisply refreshing fennel-and-green-apple salad with pecorino Romano and truffle oil. Classic Italian desserts are sumptuous.
Last updated: 10/22/2013
Address

2010 Fourth Ave
Seattle, WA 98121

Phone

206-441-1399

Hours

Mon-Thurs 11am-2pm, 5pm-10pm
Fri 11am-2pm, 5pm-11pm
Sat 5pm-11pm

Website
Please Note: Before making plans, please call ahead with the establishment to verify that this information is still accurate.