Agua Verde Cafe
Editor's Pick
• $ • Mexican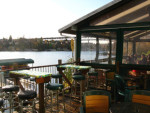 Seattle does a dead-on Baja impersonation in this color-washed cool breeze of a beach café at the UW edge of Portage Bay. A healthy emphasis reigns, from environmentally friendly and good-for-you foods (hormone-free beef, sustainably caught fish) to an impressive array of vegetarian and vegan options. There's even a kayak rental outfit downstairs for working off the carbs. But hedonists take heart, for Agua Verde serves up a high "yum" quotient. Tacos—three to an order—feature inventive combos like yams and chilies with cotija cheese, or cod fried in coconut-beer tempura and served with shredded cabbage and avocado cream. Rum and tequila flow through this gringo-happy joint like the California Current—to particularly friendly effect in the tart Mexican lime margarita—which makes scoring a deck table on sunny summer afternoons a lesson in patience. So is waiting for your waiter—that blur over there working very hard and still never quite getting to you. A newer location brings a limited menu to the Kirkland waterfront.
Last updated: 10/22/2013
Address

1303 NE Boat St
Seattle, WA 98105

Phone

206-545-8570

Hours

Mon–Sat 11–9


Website
Please Note: Before making plans, please call ahead with the establishment to verify that this information is still accurate.