5 Spot
Editor's Pick
• $$ • American/New American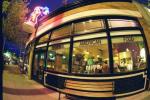 Take a ride up the Counterbalance to the 5 Spot. Better yet, walk, as penance for the sinfully large feast you're about to consume: Heaping helpings are the 5's franchise. This Queen Anne institution for weekend brunch is one of Chow Foods' original crowd-pleasers. The atmo is upscale diner in large, noisy quarters with cushy booths. Lunch and dinner menus pay tribute to Southwest, New England, Southern, and Northwest cuisines, and a regional American "theme menu" wild card is thrown in for good measure. It's all down-home real-good—the sort of place that makes smoky, sweet, saucy barbecued wings and oily French-fried artichoke hearts with delish bready mushroom "cuzins"—and whatever fails to astonish can still be counted on to satisfy. The full bar sure will. Very popular with families.
Last updated: 06/18/2012
Address

1502 Queen Anne Ave N
Seattle, WA 98109

Phone

206-285-7768

Hours

Mon–Fri 8:30am–midnight
Sat & Sun 8:30–3, 5–midnight

Website
Please Note: Before making plans, please call ahead with the establishment to verify that this information is still accurate.